As it gets closer and closer to Christmas I thought I would give those last minute buyers some gift ideas what to buy there special lady - girlfriend, wife, mother, sister. etc.
Benefit: How To Look The Best At Everything - £25.50
This gift set is beyond perfect, whether you are new to benefit or love everything you need for a flawless completion in one place this set if for you. It comes with mini sized, POREfessional Pro balm, Boi- ing 01 & 02, Hello Flawless Oxygen wow "cheers to me" champagne brightening make-up and Hello Flawless! "me vain?" champagne custom powder cover-up. It also includes a small booklet with tips and advise on how to use the make-up. It retails at £25.50 and comes in three shades, light, medium & dark.
I have described the light kit, others may vary.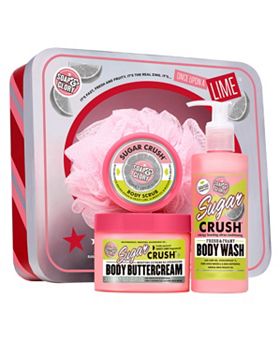 Soap and Glory: Once upon a Lime - £18.00
Soap and Glory are never one to let you down and this gift set is no exception! This is my favourite scent that Soap and Glory have ever produced, it's light, refreshing and smells good enough too eat! The set includes; a body wash (can be used as bubble bath also), a body scrub and a body butter. Yum!
Aldo Leather Freiwen Over the Knee Boots - £110
Of course I'm not suggesting you spend £110 If you don't want too, these are just an example! But they are beautiful! Over the knee boots are a great trend at the moment that can be styled in many different ways and look fabulous on most people! For those who can't quite bring yourself to spend this much money (reasonable) New Look have some great variations starting at around £30.00.
Yankee Candle: Christmas Classic 3 Small Jars - £19.99
Yankee Candle is one of my favourite candle producers, for me it's the price! I cannot justify spend £40 on a small sized candle. This is why this Christmas gift set is perfect! You get 3 small jar candles, the scents include; Christmas Eve, Christmas Cookie and Apple and Pine Needle. The scents are described as;
Christmas Eve - Traditional holiday scents of a warm hearth, sugared plums and candles fruits.
Christmas Cookie - Buttery rich, vanilla scented, holiday sugar cookies.
Apple and Pine Needle - Popular pine gets a fruits twist as crisp apple notes are combined with pine needles, cypress and cedar wood.
You get 3 jars for £19.99, 1 jar retails for £8.39 saving you just over £5!
I hope you have enjoyed this short Christmas wish list guide!
Comment below if you have any opinions on what I have chose & also if you have any idea of your own!
Miss Abigail J. x
<a href="http://www.bloglovin.com/blog/11428021/?claim=2e8nt6qpfhc">Follow my blog with Bloglovin</a>